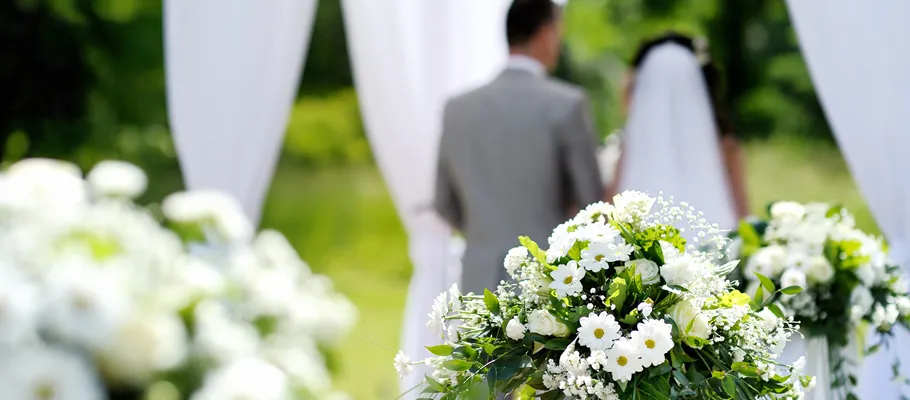 Dearest bride and groom
Château Castelrey is a perfect place if you want an intimate and romantic château wedding in France. With the charming castle and the spacious garden as framework for the event, the wedding is guaranteed to be memorable for you, your family and guests. On the spacious and sheltered property, trees and ornamental shrubs, perennials and flowers bloom with the most wonderful scents and colours throughout the summer. Well-kept walnut groves beautifully surround the property and invite you to small, romantic walks. Throughout the garden there are several seating areas and benches, and within the property there are several trails for romantic strolls and some secluded gems offering tranquility and privacy.
We have beautiful suites and rooms for accommodation at the castle and even more rooms in our charming, French detached houses, The Gate keeper's house and The Gardener's house. These are both adjacent to the castle.
We always plan for an open air garden party for your wedding. If necessary or upon request we also have a sheltered plan B.
Our major objective is to make sure that you are provided an unforgettable time with your loved ones, laughter, joy and love; our gift to you. A wedding at Castelrey should be enjoyed from the moment you arrive until you return home with your heart filled with sweet memories.
Most weddings start with thorough planning long before the big day. We can assist you with anything from planning to the practical implementation of the smallest details making the wedding day exactly as you have dreamt it to be. Whether you want a grand wedding or a simpler romantic day, both with ceremony and subsequent dinner in the garden, planning is regarded to be of great importance. We offer assistance from a professional wedding planner and we have skilled partners who contribute with anything, from A to Z: preparing a roadmap for the whole event, arranging the ceremony, or taking care of decorations, the menu, food and beverage, the flower arrangements, photographer, music and everything that goes with it to make your wedding in accordance to plan.
The bride and groom are particularly being followed up, and as hosts at Castelrey we will be with you all the way, but from a discrete distance. This is how we assure your wedding day to be just as memorable as you want it to be.